British Foreign Secretary Boris Johnson met Libyan commander Khalifa Haftar in Benghazi on August 24. The visit and his remarks were the latest show of growing Western recognition for Haftar, who has long been supported by Egypt and the UAE and rejects the GNA's authority.    "Field Marshall Haftar has a role to play in the political process," Johnson said in a statement. "I urged him to adhere to the commitments he made during recent meetings in Paris, to respect a ceasefire, and to work with Mr. Salame in order to amend the Libyan Political Agreement."
Libya is divided between two enemy administrations. In one side, the Government of Tripoli headed by Serraj, supported by United States, Italy and UN. In the other the House of Representatives in the eastern city of Tobruk (or Tobruk), in the control of Haftar's fotces. The second 'government' is primarily supported by Egypt, but somewhat also by France and Russia.
"According to the Russian Press Agency RIA, " Saif al-Islam is trying to reorganize tribal clans, traditionally strong in Libya, especially in the southern part of the country.
'More and more people are convinced that Saif may represent the turning point for stabilizing the country, seeing in him the right interlocutor capable of controlling the true Libyan power holding tribes.'
[August 9 : Haftar visits Egypt after Macron ]
[July 22 Macron to see Haftar and Seraj ]
LIBYA – 21 July 2017:Field Marshal Khalifa Haftar, in the east of Libya, and Fayez Seraj, head of the U.N.-backed government in Tripoli, will meet with French President Emmanuel Macron in Paris on July 25. The meeting comes at a time when Haftar has gained ground militarily with Egyptian and United Arab Emirates support, and Western states say Haftar must be part of any solution to the conflict in the oil-producing North African state.
The two held talks in Abu Dhabi in May, their first in more than a year and a half, about a U.N.-mediated deal that Western powers hope will end the factional fighting that has dominated Libya since the 2011 fall of Muammar Gaddafi. The meeting will be a diplomatic win for the United Arab Emirates, the United Nations and neighbouring Egypt.
Macron said on July 13 there would be concrete diplomatic initiatives on resolving the conflict soon.
[June 6 LNA gains Jufra ]
Lieutenant General فريق Khalifa Haftar's Libyan National Army (LNA) has gained ground in central and southern Libya since last year, taking control of oil facilities and military bases. Most recently they have advanced near oasis towns in the Jufra and Sabha regions.
Regional powers have sided with opposing camps that have vied for power in Libya since the 2011 uprising that toppled veteran strongman leader Muammar Gaddafi.

Egypt and the UAE are considered key supporters of Haftar, who has built his position battling Islamist militants and other opponents in eastern Libya. East Libyan authorities accuse Qatar of backing rival, Islamist-leaning factions in western Libya.
Libya's eastern-based government has followed regional allies in cutting diplomatic ties with Qatar, its foreign minister, Mohamed Dayri, said on June 5.

The government, which sits in the eastern city of Bayda, has little authority within Libya. It is appointed by a parliament that also sits in the east and is aligned with powerful military commander Khalifa Haftar. They have spurned a U.N.-backed, internationally recognised government in the capital, Tripoli.

The eastern-based government's announcement came after Saudi Arabia, Egypt, the United Arab Emirates and Bahrain severed ties with Qatar, accusing it of supporting terrorism.

Dayri gave no immediate explanation for the Libyan move.
[May 20 Third Force massacre ]
An attack on Brak al-Shati airbase in south Libya has killed 141 people, mostly soldiers loyal to military strongman Khalifa Haftar The attack breached an informal truce between the rival forces that was reached earlier this month when the LNA's commander, General Khalifa Haftar, met the UN-backed Prime Minister Fayez al-Sarraj.
Tripoli had decided to suspend its defence minister, al-Mahdi al-Barghati, and Jamal Al-Treki, the head of the Third Force from their duties until those responsible were identified.   The Tripoli government has set up an investigative committee to present its findings to the prime minister within 15 days.
[March 3 Khalifa Haftar: Trump to support Haftar's Eastern forces ?]
Egypt is being sidelined in the talks between Moscow and Haftar on a range of issues.
"Haftar promised to provide Russia a naval base on the Mediterranean, probably in Barca, in return for increased Russian military support to Haftar in order to allow him to increase the land under his territorial control. [This would also entail] a promise by Russia to secure American and European approval to guarantee a role for Haftar in any future political arrangements in Libya," he says.
Haftar visited Moscow twice in the last year and boarded the Russian aircraft carrier the Admiral Kuznetsov in January, after Russian President Vladimir Putin ordered the ship to anchor off Libyan shores as it made its way back from a mission to support Bashar al-Assad's forces in Syria. On board, Haftar held a video conference call with Russian Defense Minister Sergey Shoygu, in what is the most publicly visible sign of Russia's increasing support for Haftar.
Trump enters the fray
Any frustration felt toward Haftar did not prevent Egypt from attempting to secure support from the United States for him, as US and Libyan sources revealed last week that there had been "undeclared efforts exerted by Egypt to establish direct relations bY and contacts between Haftar and the new US administration led by President Donald Trump, which is reconsidering how to deal with Haftar as the strongman in Libya."
The Egyptian official news agency prominently highlighted the remarks that Trump's Middle East campaign advisor Walid Phares gave to the local "Libya Al-Hadath" television channel earlier this week, reporting that Phares said, "The Trump administration will deal with the national Libyan military institution led by General Haftar. This army is the one officially acknowledged by the administration, despite international political disagreements and suggestions to build another army."
Phares's comments represent a potential change in the US position on Haftar, as the previous US administration had offered military support to militias supporting Sarraj in their battle against the Islamic State in Sirte last year
http://www.madamasr.com/en/2017/02/25/feature/politics/haftar-and-sarraj-in-cairo-the-details-of-egypts-partially-successful-libyan-summit/
[December 9 2016]
Khalifa Haftar's Libyan House of Representatives MP Jaballah Al-Shibani has asserted that someone in Trump's campaign team had promised him and other MPs that the Libyan crisis would be 'one of the Trump administration's priorities, emphasising that they will support the Libyan Army with the needed military equipment because they are looking for who can bring back stability and security in Libya.'
Al-Shibani also declared, 'Trump believes in strong and powerful men and he has good relations with Russia's President Vladimir Putin and the Egyptian President Abdelfattah El-Sisi, which will pave the way for good relations with Libya as well.'
Other than in relation to the presence of the Islamic State group, however, Libya is unlikely to be a top policy priority for the president-elect. Nevertheless, many easterners believe that the Trump presidency will help to alter the balance of power inside Libya in Haftar's favour. Khalifa Haftar's position has obviously been bolstered significantly of late as a result of his September takeover of the oil export terminals. This has enabled the field marshal to extend his control more firmly across the east.   Foreign support for eastern forces loyal to Haftar — includes U.S. ­allies France and Egypt.
August 10 escalation of conflicts between Haftar and Siraj UN-proposed government ]
http://www.thearabweekly.com/article/5641/Libyas%20Haftar%20seeks%20Russian%20support
Cairo- The army loyal to the government based in the east Libya announced breaking off relations with commander of 204 tanks brigade and the defense minister-designate of the UN-proposed government Colonel Al-Mahdi Al-Barghathi.
The commander of the Libyan National Army Khalifa Haftar issued a resolution that stipulates changing the name of 204 tanks brigade to 298 tanks brigade and appointing Abd Al-Karim Barghouti as a leader of the tanks brigade.
Latest updates indicate termination of official relations between Minister of Defense in Siraj government and the military institution in eastern Libya; they also signal an escalation of conflicts between Haftar and Siraj.
[May 12 American forces in Libya snub Hifter

Two teams totaling fewer than 25 troops are operating from around the cities of Misurata and Benghazi to identify potential ­allies among local armed factions and gather intelligence on threats, according to the officials, who spoke on the condition of anonymity to discuss a sensitive mission overseas. The activities of the American "contact teams," as they are known, take place in parallel to those of elite allied forces from France and other European nations in the same areas, U.S. and Libyan officials said.
Some officials privately complain that foreign support for eastern forces loyal to Hifter — including from U.S. ­allies France and Egypt — makes consolidation of the unity government's power more difficult. The Misuratan forces recognize the unity government in Tripoli; those loyal to Hifter do not. "Our priority in Libya is full support to the government and not support to a particular force," a French diplomatic official said.
[October  9 2015 Khalifa Haftar on de facto partition of Libya ]
In spite of being threatened with sanctions, Gen. Khalifa Haftar has the support of Egypt, the UAE and the Arab League. He recently signed a military deal with Jordan.
Haftar's Plan would confer all powers on a temporary president or declare a state of emergency with a military council governing the country and himself as head of the council, and thus de facto partition of the country. Haftar believes he can defeat the GNC and retake the rest of the country.
[March 11 Lieutenant General فريق Khalifa Haftar, army commander of Libyan Army]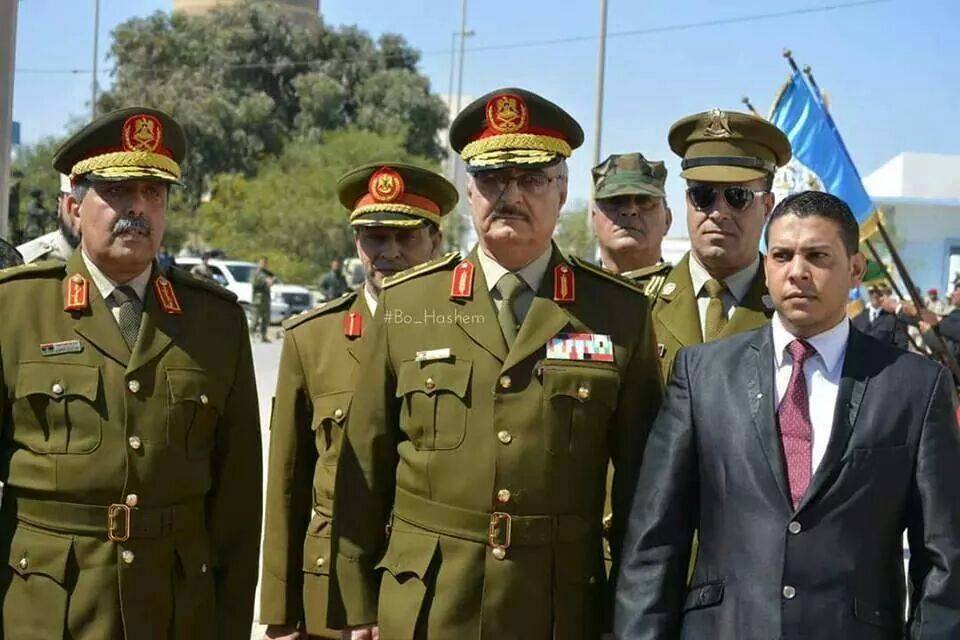 On March 2, 2015,Khalifa Haftar was appointed commander of the armed forces loyal to the elected, internationally backed government, the Council of Deputies. Haftar has been promoted to lieutenant general. His appointment as army commander, which was announced on March 2, is apparent confirmation of official support for the Dignity campaign, which has battled extremist militias in the eastern city of Benghazi.
[February 25 2015 Tobruk Libya: Aguila Salah Issa to name an army chief]
"The chamber (of deputies) adopted today a law regarding the general leadership of the Libyan army," calling on parliament speaker Aguila Salah Issa to name a chief, MP Issa al-Aribi said. Another MP said the law was adopted to "legitimise" General Khalifa Haftar, chief of the Libyan National Army, and that he would be formally named in the "coming hours.
[June 19 2014 Ahmed Abu Khattala taken into custody in a secret US raid. As the raid took place, Operation Dignity attacked Islamic militant camps]
buzz:Despite official denials, June 15's capture of Khattala was conducted in a joint effort with "Operation Dignity." General Haftar's airstrikes and raids in Benghazi then may very well have been the "Fix" portion of JSOC's "Find, Fix, Finish" strategy. By launching simultaneous attacks in Benghazi, Khattala would have been forced to bunker down inside his compound, the military action serving to deny him freedom of movement. How many Islamists were killed during this round of strikes and operations ranges from a dozen all the way up to 60 depending on which sources you believe.
[June 18]
As the U.S. raid took place on Sunday,June 15, forces loyal to Operation Dignity attacked Islamic militant camps in Benghazi as part of a new assault against the groups. Airstrikes targeted the camps on behalf of Gen. Khalifa Hifter, who was a top military official under dictator Moammar Gadhafi but later defected and lived for years in the U.S.
It isn't clear what the strikes targeted. The general later said the clashes killed five of his fighters.
Ahmed Abu Khattala was taken into custody in a secret US military raid in Libya on 15 June.
For days, Army Delta Force commandos, the FBI and U.S. intelligence agencies lay in wait for one of the alleged masterminds behind the deadly September 11, 2012, attack on the U.S. Consulate in Benghazi, Libya.
Then, they lured Abu Khatallah to a point south of the city and nabbed him.
Khalifa Haftar's troops, backed by tanks and rocket launchers, attacked several suspected camps of Islamists in western areas of Benghazi on Sunday, June 15. http://wp.me/p1kUZv-3e
[April 6, 2011]
A U.S. envoy has arrived in Benghazi to get to know Libya's opposition and discuss how the United States might help it meet its financial needs, a U.S. official said on April 6.
The visit by Chris Stevens, former deputy chief of mission at the U.S. embassy in Tripoli, reflects a U.S. effort effort to deepen its contacts with the rebels, who are fighting a civil war against Libyan leader Muammar Gaddafi's forces. here
Fathi Baja, the rebels' head of international affairs. Washington Post but see